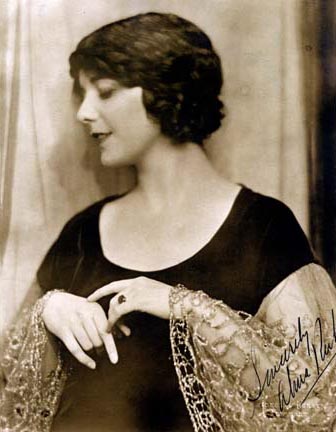 Today's dead addict is brought to you by the letter R: Alma Rubens.
A silent film star who rose to fame quickly, Rubens got her "big break" when a girl in a chorus line fell ill and she was asked to replace her simply because she was there. She joined the performance troupe, and travelled with them to Los Angeles. She left the troupe on the advice of her lover Franklyn Farnum, and they joined the movies together.
She starred opposite Douglass Fairbanks in a comedy called
The Leaping Fish,
which ironically poked fun at substance abuse. Alma was prescribed morphine by a physician when she had been sick. A few months after this initial exposure to opiates, she needed more and more of the drugs to function, and she progressed along to heroin. Her substance abuse wreaked havoc on her beauty and her acting ability, and she stopped getting offeres for roles.
She died of pneumonia brought on by her heroin addiction in 1931 at 31 years old.